Selena Gomez underwent a kidney transplant over the US summer, the pop star has revealed in a post on her official Instagram account that showed her in hospital beside her friend, who donated the organ.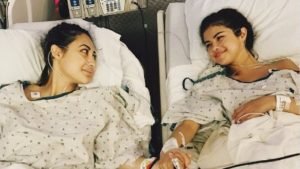 The 25-year-old performer broke the news by sharing a picture on Instagram of herself in a hospital bed, revealing her battle with Lupus had led her best friend Francia Raisa to donate an organ.
In a  lengthy post  she explained why she had been absent for most of the summer as she shared a series of pictures of her scars.
Lupus is a chronic auto-immune disease with symptoms that include body aches, fevers and extreme fatigue. It can also lead to kidney and heart damage.
"I'm very aware some of my fans had noticed I was laying low for part of the summer and questioning why I wasn't promoting my new music, which I was extremely proud of," Gomez wrote.
"So I found out I needed to get a kidney transplant due to my Lupus and was recovering. It was what I needed to do for my overall health.
"I honestly look forward to sharing with you, soon my journey through these past several months as I have always wanted to do with you.
"Until then I want to publicly thank my family and incredible team of doctors for everything they have done for me prior to and post-surgery."